Market Action
Stocks continued their winning streak, with the major indexes notching their fourth consecutive weekly gain and moving to new record highs.
The British pound rallied above 1.40 against the US dollar for the first time since the Brexit vote. The dollar extended its decline this week, falling to a three-year low after comments from US treasury secretary Stephen Mnuchin welcoming the softer dollar's impact on foreign trade; later Mnuchin backed off his earlier comments, saying that in the long run the dollar will reflect US economic strength.
The US economy grew at an annual rate of 2.6% in the fourth quarter of 2017, below the 2.9% consensus forecast. The report also revealed that consumer spending rose 3.8% versus the same quarter a year ago, a level not seen since late 2014, and business spending was strong, rising 6.8% year over year.
South Korea's GDP saw a quarterly contraction in the final three months of 2017, falling by a seasonally adjusted 0.2% which is partly attributable to a base effect from outstanding growth in Q3 as well as the 10-day Chuseok autumn holiday.
US commerce secretary Wilbur Ross said this week that the decision to place tariffs on imported solar panels of up to 50%, phasing out over four years, and on washing machines of up to 30%, phasing out over the same term, is not the start of a trade war but rather a response to unfair trade competition as other nations skirt global trading rules.
BOJ governor Haruhiko Kuroda said Monday that it is too soon to consider policy normalization. ECB president Mario Draghi stated on Thursday that the stronger euro will impede progress toward the central bank's inflation goal. In US central banking news, the US Senate confirmed Jerome Powell as Janet Yellen's replacement as chair of the US Federal Reserve by a vote of 85-13. Yellen's term ends next week.
The sixth round of NAFTA negotiations kicked off Sunday in Montreal, and this week negotiators from 11 Pacific Rim nations announced agreement on a new Trans-Pacific Partnership. The deal will likely be signed in Chile on March 8. Without the U.S., the combined gross domestic product of the TPP agreement amounts to $12.6T, or 15.8% of world GDP.
Please click here for this week's update on market returns.
This Week from BlackSummit
Dollar Weakness and Economic Developments: What are the Implications and Where Might it be Headed?
John E. Charalambakis
Recommended Reads
Every One of the World's Big Economies Is Now Growing
Peter S. Goodman
The future of war
Matthew Symonds
Gold Rally Picks Up Steam as Dollar Falters
Amrith Ramkumar
The Dark Side of America's Rise to Oil Superpower
Javier Blas
How Sharp Power Threatens Soft Power
Joseph S. Nye Jr.
Poland's New Nationalist Rulers Are Erasing Lech Walesa From History
Drew Hinshaw and Marcus Walker
Video of the Week
Meltdown and Spectre, the big PC security flaws hidden in your devices, explained
Image of the Week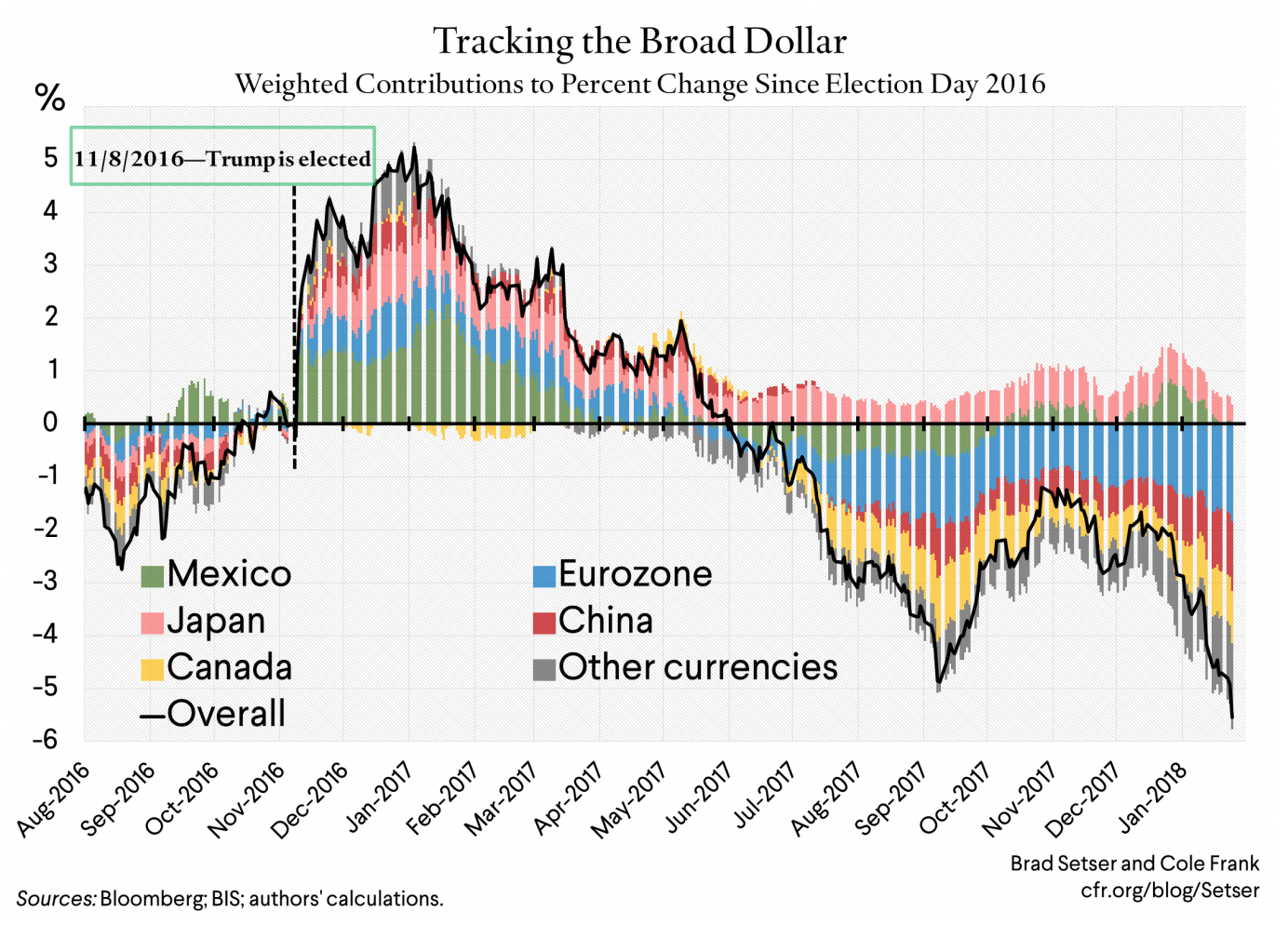 From https://www.cfr.org/blog/adjustment-hard-especially-if-it-involves-dollar