Market Action
The Dow Jones Industrial Average closed above 25,000 for the first time on Thursday, while the FTSE 100 and MSCI Asia Pacific also closed at all-time highs during the week. All three major US stock indices – the Dow, the S&P 500, and the Nasdaq – closed at new records in all four sessions of 2018.
On Friday the U.S. Labor Department reported that 148,000 jobs were added in December, less than forecast, while the unemployment rate held at a 17-year low. The U.S. economy added 2.055 million jobs in 2017, making that the seventh consecutive year of job gains over two million.
Protests in Iran this week against the government's economic policies mark the biggest show of dissent in the country since 2009. Iran's economy has grown since the 2015 nuclear deal brought some sanctions relief, but not fast enough to stem high unemployment exacerbated by double-digit inflation. Protestors say that not only has the economic revival from the nuclear deal fallen short of promised results, it is also leaving out large portions of the Iranian public, particularly the working class.
Sweeping changes to EU rules on financial instruments came into force on Wednesday in the biggest global financial reform in a decade. MiFID II requires more disclosure on transactions in order to protect investors and foster more competition in the trading of all asset classes. Critics say the changes may unnecessarily complicate and fragment the markets.
Last weekend marked the fifth consecutive week of anti-government corruption protests across Israel. Demonstrators call for speeding up investigations into the allegations of bribery and the misuse of public funds by Prime Minister Benjamin Netanyahu and top officials in his government, and for Netanyahu to step down. The prime minister denies the allegations and says they are politically motivated.
Russia's highest court last weekend upheld a decision barring opposition leader Alexei Navalny from taking part in next year's presidential election. Without a serious opposition candidate, President Vladimir Putin is set to easily win a fourth term in the March vote which would put him on track to become Russia's longest-serving leader since Josef Stalin.
Please click here for this week's update on market returns.
Recommended Reads
Making China Great Again
Evan Osnos
Commodities Are on Their Longest Winning Streak in History
Mark Burton and Jake Lloyd-Smith
The Real Future of Work
Danny Vinik
Video of the Week
Eurasia Group Reveals 2018 Top Risks
Image of the Week
Every major country ETF in the world was positive over 2017 with an average return of 28%.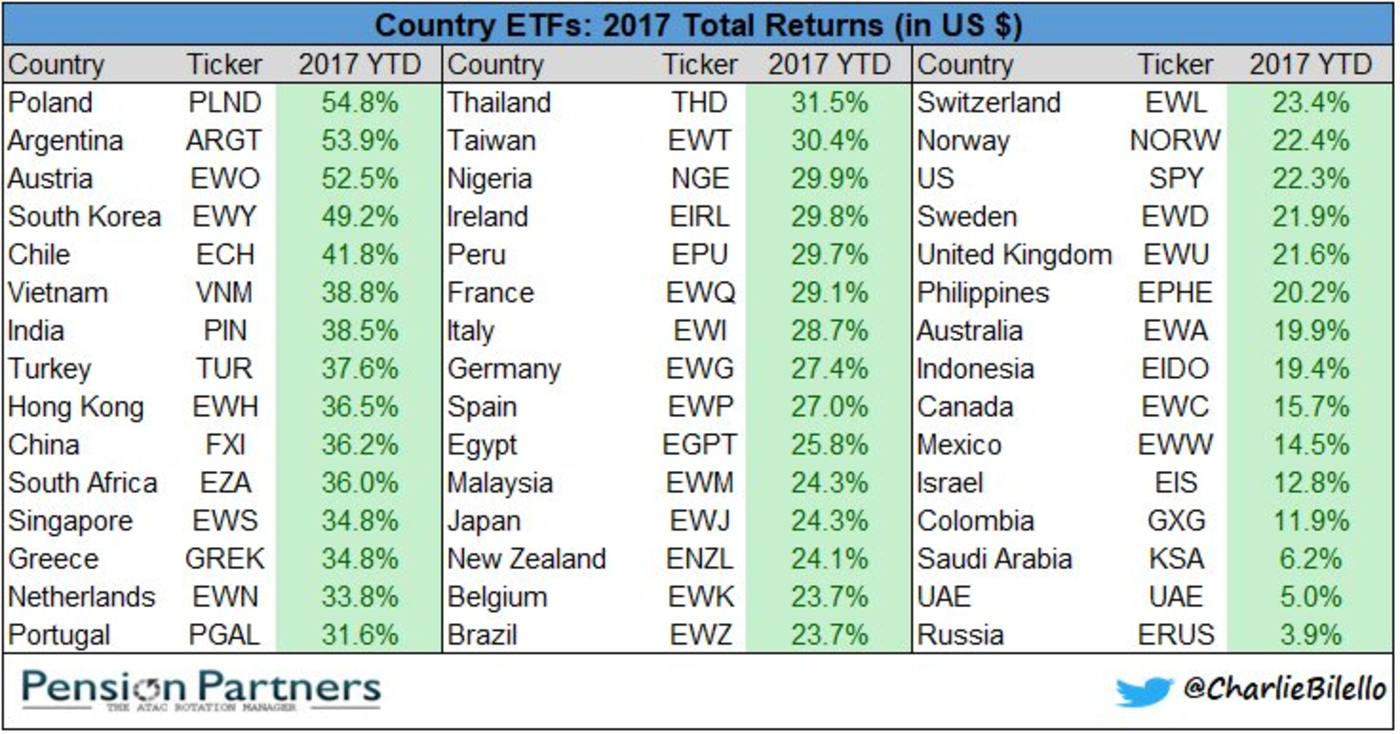 Source: @CharlieBilello