Market Action
Flash estimates of purchasing managers indices suggest that global economic momentum has persisted into December. Manufacturing PMI for Europe hit a record high of 60.6 in December, and Japan saw its manufacturing index reach the highest level in four years at 54.2. The US manufacturing PMI rose to 55.0 from 53.9 in December. US retail sales have risen as well, advancing 0.8% in November after a 0.5% gain in October.
EU leaders agreed on Friday to open the next phase in negotiations over the UK's departure, which will focus on trade relations. Earlier in the week, the UK Parliament passed changes to the EU Withdrawal Bill that would allow the House of Commons a final vote on any Brexit deal that the prime minister agrees with the EU.
On the sidelines of the World Trade Organization biennial ministerial conference, the US, the EU and Japan announced an alliance to fight market distortions caused by China's severe excess capacity, illegal subsidies and intellectual property abuses. The WTO itself failed to reach any new agreements at the conference.
According to a report released Wednesday by the Asian Development Bank, China's economy will expand a bit faster than expected this year on resilient consumption but growth is likely to stutter in 2018 due to "controlled moderation" in the economy. That would mark the slowest pace of expansion since 1990, according to the World Bank.
Wednesday's quarter-point hike in the US federal funds target to 1.25%–1.5% was widely expected, and forecasts remain in place for three rate hikes next year amid tight labor markets, above-trend economic growth, and low inflation.
While bitcoin continued its climb over the past week, its volatility decreased somewhat after the launch of bitcoin futures by CBOE Global Markets last Sunday. According to Reuters, market-watchers judged that bitcoin's price was being lifted by the anticipated launch of rival CME Group's bitcoin futures contracts on Sunday.
Please click here for this week's update on market returns.
This Week from BlackSummit
Russian Engagement in Latin America: An Update
Evan Ellis
Banks and Financial Stability: A Uniquely Transformational Story
John E. Charalambakis
Recommended Reads
Hungry for Income? The Best—and Worst—Yield Plays for 2018
Andrew Bary
Complacency Will Be Tested in 2018
Stephen S. Roach
Whirlwind Putin Tour Highlights Moscow's New Reach in Mideast
Neil MacFarquhar and Anne Barnard
The Greatest Investment Bubble
Randall W. Forsyth
The Internet Is Dying. Repealing Net Neutrality Hastens That Death.
Farhad Manjoo
Video of the Week
Afghanistan's battle against drug addiction
Image of the Week
The latest reports show that the US now has one job opening for every unemployed American. This ratio is at the highest level in decades.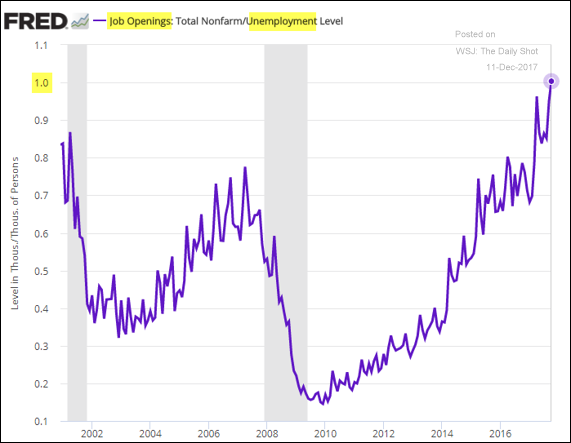 (not seasonally adjusted)