Market Action
November was the best month for Eurozone factories in over 17 years. IHS Markit's final manufacturing PMI for the Eurozone climbed to 60.1 last month from October's 58.5. New orders and backlogs surged and headcount increased at the fastest rate since the survey began in 1997.
Oil prices rose Friday after OPEC and other big producers including Russia agreed to keep limiting their output through the end of 2018. However, strong global growth, supply disruptions and geopolitical tensions in the Middle East and Venezuela expected to have at least as much influence over prices as OPEC's deal.
The U.S. Commodity Futures Trading Commission (CFTC) announced on Friday it would allow two major Chicago exchanges – the CME Group and CBOE Global Markets – to launch bitcoin futures. CFTC Chairman Christopher Giancarlo warned investors of bitcoin's notorious volatility, emphasizing that the underlying bitcoin cash markets remain largely unregulated and mostly beyond the CFTC's control. Bitcoin climbed past $11,000 on Wednesday this week, dropped below $9,250 on Thursday, then moved above $10,500 on Friday after the futures approval by the CFTC.
The missile that North Korea launched on Wednesday is a new type of intercontinental ballistic missile which can fly over 13,000 km (8,080 miles), a South Korean defense ministry spokesman told Reuters on Friday. South Korea's economy appears to not be troubled by the tensions. Gross domestic product expanded at a 3.8% annualized rate in Q3, marking the fastest pace of growth in seven years.
Zimbabwe President Emmerson Mnangagwa on Thursday announced a cabinet consisting of senior military officials and party loyalists, with no opposition politicians included, in what was widely seen as a reward for the army's role in the removal of his predecessor Robert Mugabe. Will Mnangagwa's political strategy complicate negotiations by Zimbabwe for financial aid to repair the economic damage done in recent decades?
Please click here for this week's update on market returns.
This Week from BlackSummit
Monetary Trends and 2018 Outlook: Searching for Value
John Charalambakis
Recommended Reads
Russia, Saudi Arabia Clash Ahead of OPEC Meeting
Benoit Faucon, Summer Said and Christopher Alessi
The New Geopolitics
Bruce Jones
Tehran Is Winning the War for Control of the Middle East
Jonathan Spyer
China's Vision for the Next 30 Years
Zhang Jun
China vs. America: Managing the Next Clash of Civilizations
Graham Allison
Video of the Week
Zimbabwe – the beginning of a new era?
Image of the Week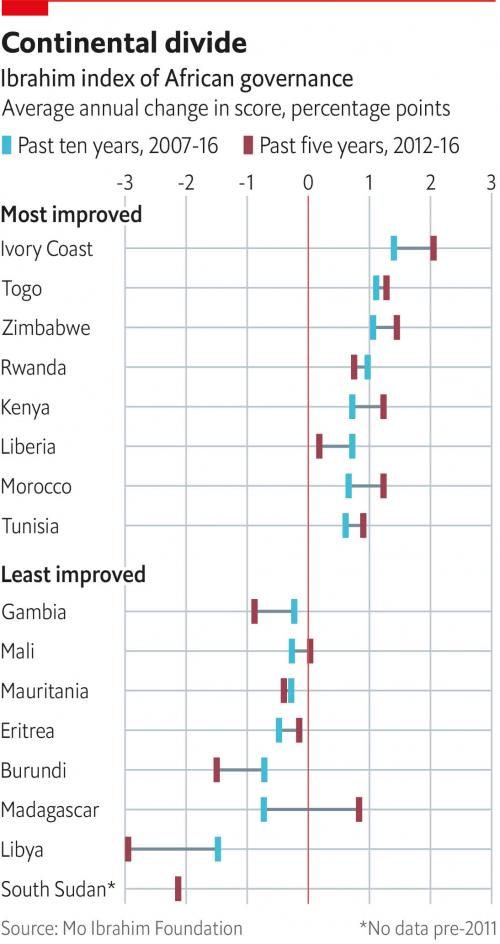 One of the new millennium's most positive stories is the increase in the health and wealth of Africans. Between 2000 and 2015, average life expectancy has risen by nearly a decade, to 60 years. The percentage of children dying before their fifth birthday fell by nearly half (although it is still double the percentage in Asia). The Ibrahim Index of Governance, released [last week], shows a similar trend, with 21 of the 26 indicators it uses to measure health, welfare and education improving since 2007. But the index, produced by the foundation of Mo Ibrahim, a Sudanese telecoms magnate-turned-philanthropist, also depicts a divergence on the continent, as many countries suffer the effects of conflict. States including Libya, South Sudan and the Central African Republic have collapsed into devastating civil wars. Jihadists are wreaking havoc in the Sahel and Somalia. Neither development nor democracy can be delivered from the barrel of a gun."
Source: The Economist; the Ibrahim Index of African Governance