Market Action
Spanish authorities have confiscated millions of voting papers in Catalonia and stationed additional police in the region ahead of Sunday's independence referendum, with the vote declared illegal by Madrid and Spain's constitutional court. Catalonia makes up 19% of Spanish GDP.
The European Commission's Economic Sentiment Indicator, which shows business and consumer confidence, rose to 113.0 in September, reaching its highest level since June 2007.
President Donald Trump proposed on Wednesday the biggest U.S. tax overhaul in three decades, which calls for tax cuts for most Americans but has prompted criticism that the plan favors the wealthy and will increase the national deficit.
Final results released on Wednesday for the Kurdish independence referendum showed nearly 93% in favor of independence from Iraq. Some 72% of eligible voters took part in Monday's referendum, according to the electoral commission. The referendum has escalated pressure from the Iraq government as well as Turkey and Iran, who could squeeze food imports and disrupt oil exports.
Japanese Prime Minister Shinzo Abe said he would dissolve parliament's lower house on Thursday for a snap election slated for October 22, seeking a mandate for his tough stance toward North Korea and efforts to rebalance the social security system. Abe faces a challenge from the new Party of Hope launched this week by Tokyo Governor Yuriko Koike. Abe's decision has evoked comparisons to British Prime Minister Theresa May's move to call a snap election in June, only to see her Conservative Party lose its overall majority.
German Chancellor Angela Merkel won a fourth term while her ruling Christian Democrat-led coalition took a hit in weekend elections, possibly cooling momentum behind efforts to strengthen the eurozone. The euro fell back below the $1.19 level against the dollar and German government bonds gained ground as market participants digested the implications of Sunday's election outcome in the eurozone's most powerful economy.
Please click here for this week's update on market returns.
This Week from BlackSummit
Market Implications of Forthcoming Central Banks' Changing Policies: Liquidity & Recessionary Considerations
John Charalambakis
Recommended Reads
Meet the World's Leaders, in Hypocrisy
Nicholas Kristof
The Smart Way to Get Tough With Iran
William J. Burns and Jake Sullivan
Catalans and Kurds Discover the Hard Truth About Secession
Max Fisher and Amanda Taub
Image of the Week: Thus far, the S&P 500 has had the lowest maximum drawdown on record this year.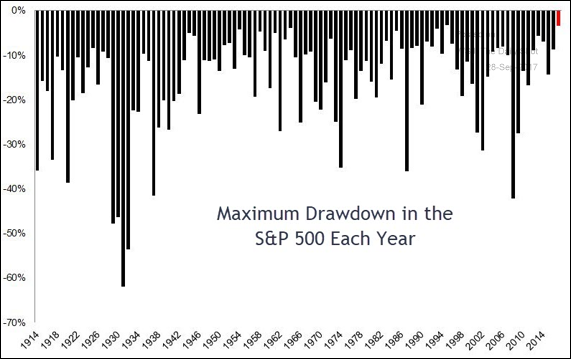 Source: Michael Batnick/The Daily Shot