In this week's commentary we offer our assessment of a positive outlook for the real estate sector in 2013. We believe that real estate will outperform most – if not all – of fixed income investments in this environment of financial repression. We anticipate all real estate sectors (and especially the multifamily housing sector, downtown office space, and industrial properties) to perform well throughout 2013. Of course problem will remain in the legacy-loan portfolios, and maturing loans in the next couple of years may raise red flags, however the overall assessment for this year is positive and pretty optimistic, given the low interest-rate environment, yield-hungry investors, cash-rich real estate funds, and foreign investors who seek opportunities in safe heavens with decent returns and prospects. On a separate international note, we are of the opinion that the real estate market in Latin and South America will also perform well in 2013, due do the rising role and size of the middle classes there.
The graph below (from the Emerging Trends in Real Estate, a publication of PricewaterHouseCoopers) shows that the average expected return in 2013 will be close to 7.5%.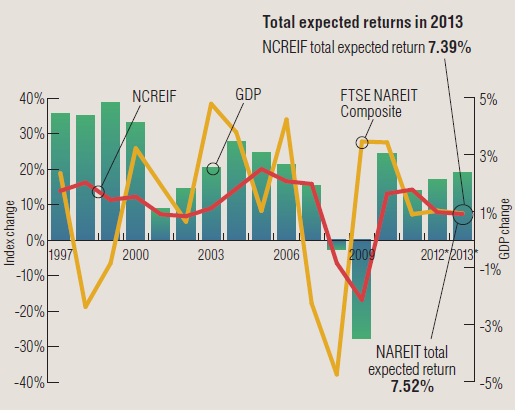 Moreover, with artificially subdued rates due to monetary policy – which we expect to stay very low for all of 2013 and possibly beyond – both borrowers and lenders seem to gain. Hence while one of the biggest risks in the economy is the normalization of interest rates, we do not anticipate that process to start until mid 2014. We believe that not only the real estate market has bottomed but also that it has already started experiencing a healthy and steady increase in terms of prices and returns, as the following figure shows.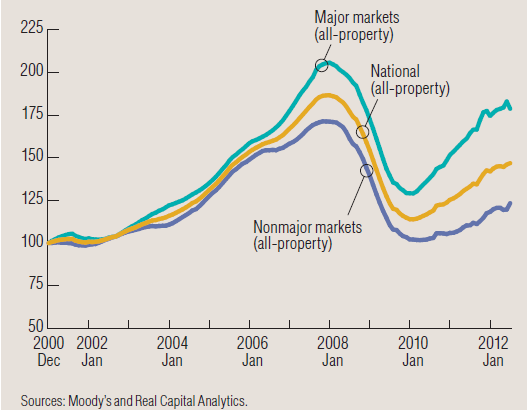 In addition, as the following figure demonstrates, the delinquency rates have been following a steady downward trend, a fact which is very important in assuring that the bottom has been reached and an upswing will follow.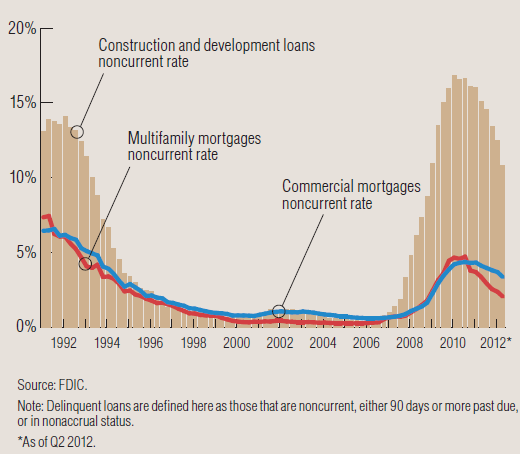 We also believe that net capital inflows to real estate in the US will continue and probably strengthen throughout 2013, a fact that will boost returns to the sector. When we combine the above facts with the most recent data – without of course denying that the housing excesses are still around – that show increases in housing starts, in building permits, in home sales, in rising home prices, and in declining inventories then, we could only conclude that with careful selection a REIT, ETF, or mutual fund in the real estate sector should prove to be a good place to park part of the portfolio.