The transportation sector can be divided into regional transportation (train, road, and airplane) and global transportation which is largely comprised of maritime shipping. Although this division is not very precise it provides valuable insights because global shipping functions differently from regional transportation in many ways. Our focus will be in the global maritime shipping sector. The sector has been through a long depression characterized by depressed charter rates and an oversupply of capacity but has recently shown signs that it is turning a corner. Meanwhile, China appears poised to secure a strong position in global shipping. The shipping sector also is changing as global retailers seek to assume more control over their supply chain.
The shipping sector entered a recession following the crash in 2008 – as shown below – due to reduced demand for global trade and a glut in shipping capacity as many ships had been built during the last shipping boom. The glut in shipping capacity together with reduced demand drove many shipping companies out of business and caused a sector-wide consolidation. Even major traditional shipping players like Maersk struggled to earn a good profit, which caused the company to trade sideways since 2004.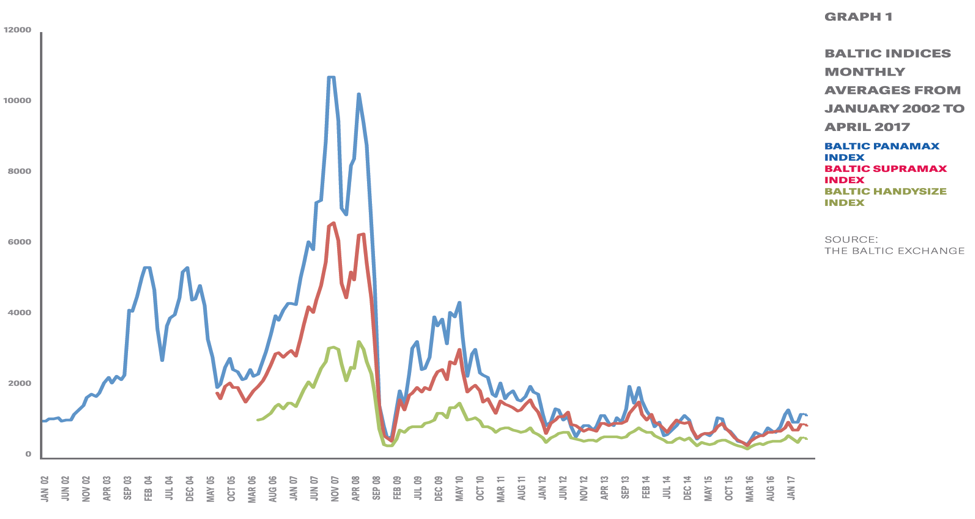 Shipping rates bottomed in mid-2016 and are now starting to move up, as shown above, due to reduced supply (indicated below) as many older ships were scrapped and not as many new ships were ordered during the last few years, together with increasing demand (indicated in the next chart) generated by continued economic growth in all three major economies (US, China, and Europe) and emerging markets. Moreover, many potential macroeconomic issues ahead could prove beneficial to shipping if they hamper the efficiency of how things can be moved around globally. Barriers that reduce the power of simple supply and demand for commodities would tend to increase shipping rates and enhance the comparative advantage of producers deemed previously uncompetitive.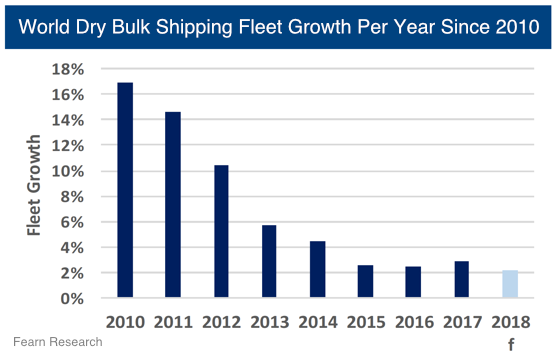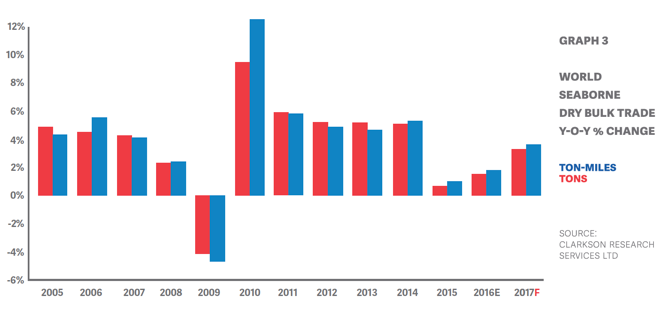 About a year ago, the world began to notice that China was moving to become a major player in the shipping sector. Chinese financiers such as the Industrial & Commercial Bank of China (ICBC) have rapidly grown their shipping portfolios, as shown below, and research firm Marine Money estimated in December 2017 that Chinese leasing sources now account for as much as one-quarter of the ship-financing sector valued at $200 billion a year. In 2009 China overtook Germany as the world's biggest exporter and in 2013 surpassed the US as the largest trading country in the world. Motivated by President Xi Jinping's strategy to secure infrastructure with access to Europe, China has purchased Hong Kong's Orient Overseas Container Line and has made major expenditures in purchasing overseas ports. These moves make the state-owned shipping company, Cosco, the third largest container shipping company in the world. China wants to be number one in the shipping industry and have permanent access to international trading partners, so they are willing to spend above market price in order to achieve these geopolitical goals. They may even challenge the traditional European leadership in this sector.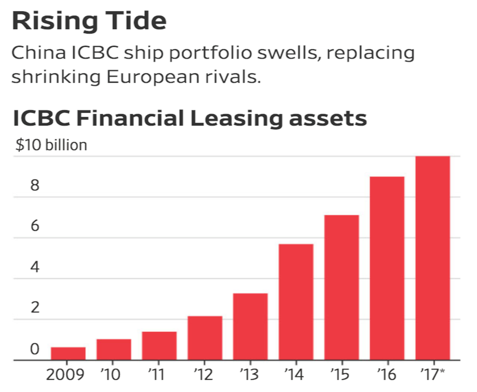 Source: Industrial & Commercial Bank of China, Wall Street Journal
The uncertainty in global market trends and raw materials supply, combined with the extensive lead time and expense of ships, have resulted in fundamental inefficiencies in this sector. Global retailers like Amazon are seeing this area as a target for improvement if they can control the supply chain. Much like their incursions into the domestic shipping industry, these retailers believe that they can reduce margin and provide better products if they develop their own global shipping capacity. Innovative thinking like this may also impact ship design and operation, perhaps moving from the large container ship model to smaller specialized vessels with autonomous controls.
The shipping sector has certainly been in deep value territory for quite some time, but the sector appears to be improving and prices are now moving up. The global economy is growing, driving increasing trade volume and thus demand for shipping. China is snapping up ships at bargain prices, and global companies are beginning to view shipping as a strategic target for innovation to improve their bottom line. Careful investment in the shipping sector at this time could lead to significant returns.